Southeast CHW Network Summit
The annual summit provides a space for individuals within the CHW Network to gather together to acknowledge the impact of the work they do in their communities, share best practices, and address challenges and barriers.
he 2022 SE CHW Network Summit was held in Birmingham, Alabama. 130 CHWs, CHW Allies, and public health and healthcare professionals attended. While the majority of attendees were from the Southeast, others traveled from states like California and Arizona.
Our keynote speaker Floribella Redondo-Martinez, a longstanding and well renowned CHW with over 30 years of experience as a leader in this field, is the President of the Arizona Community Health Workers Association. The keynote presentation covered the areas of reflexive CHW workforce advocacy to increase efficacy by understanding the importance and operationalization of self-care. We had seven innovative breakout sessions composed of over 25 speakers that covered topics requested by the SECHW Network during prior meetings which were selected for meeting desired criteria and high caliber. Within this cohort were presenters who provided information on: LGBTQIA+, Latinx youth and parenting, poetic ethnographic storytelling, self-care specific to our workforce, and leadership development to advance the growth of our field among others.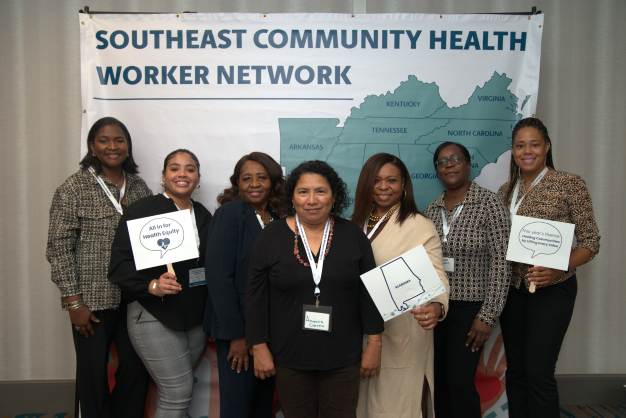 We strategically planned to host the SE CHW Network Summit in Alabama, because it is one of the only states in our network that does not have an association or coalition. Many Alabama CHW leaders were able to connect and mobilize at the event. Great strides have been made to initiate the Alabama organization following the Summit. Equitable access was intentionally considered throughout the process of the planning of the summit and we were proud to include and offer live English/Spanish translation for sessions as well as American Sign Language interpretation.
We are looking forward to building on this momentum and hosting another inspiring SE CHW Network Summit in 2023!
Registration now OPEN: September 14 & 15 Charlotte, NC
First item
2021 Southeast CHW Network Summit
In 2021, CCHA was honored to host the first annual Southeast Community Health Worker Network Summit, with support from Johnson & Johnson's Race to Health Equity Campaign, in December of 2021. Featured at the summit were speakers from organizations including Denise Smith, NACHW Executive Director; Dr. John Gilford, HHS Regional Health Administrator; Georgia Simpson, Regional Minority Health Analyst, Region I – New England, and more.
Utilizing a virtual platform allowed CHWs, health professionals, and allies to meet other like-minded individuals and network with people they would otherwise be miles away from. The participants of the summit represented more than 16 U.S. states and territories! Summit participants were encouraged to join a variety of breakout rooms centered around CHW practices.
Summit Materials:
Link to full Summit video on YouTube: https://www.youtube.com/watch?v=V9dxN0CT16c
Schedule of Events

Welcome & Poetry
CHW Regional Network History and Progress from Region I – Georgia Simpson, HHS Regional Minority Health Analyst, Region I
APHA Advancing Racial Equity & Violence Prevention – Abdul Hafeedh bin Abdullah, CHW-VPP, & Rumana Shams Rabbani, MHA, CHW-VPP
Opening Remarks – Dr. John Gilford, HHS Regional Health Administrator
Building the National Association of Community Health Workers – Denise Smith, NACHW Executive Director
Breakout Sessions

Advancing Policy to Support CHWs– Carl Rush, MRP NACHW Policy Advisor
SC CHW Ambassadors Program Overview – Andrea Heyward, CHWI Director; Jaquetta Graham, CHW; Rebekah Shilling, CHW, CEIM, CLC, FPHW, CPST, LCCE

State presentations
Menti: SE Network Summit menti.pdf
Spoken word from Dom Francis
2022 Southeast CHW Network Summit
2022 Southeast Community Health Worker Network Summit
Friday, December 9th
DoubleTree by Hilton
Birmingham Perimeter Park
8 Perimeter Park South
Birmingham, AL 35243
9:00 am – 4:00 pm (CST)

Event Flyer – English
Event Flyer – Spanish
Detailed Agenda
Breakout Descriptions
Pre-Summit Reception
2022 General Session Summit Slide Deck
We were excited to offer Continuing Education Credits to those who participated to ensure the conference contributed toward individual certifications and professional development!
Do you need your CEU certificates? Please forward your completed evaluation emails to sechw@mailbox.sc.edu and you will receive your certificates in 7-10 business days.